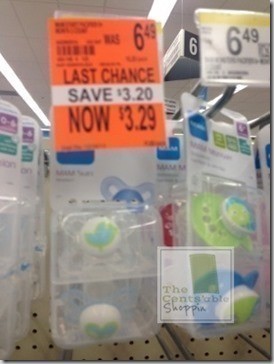 If you missed this last week, I actually stopped into Walgreens in Queen Creek Thursday morning and found ONE left on clearance… you might still find them in your store.
Even better, this month (JUNE) Walgreens has a coupon in the Walgreens June coupon book for $1/1 MAM Pacifiers 2 pk – making them even cheaper than the last time we saw them.
Pick up a coupon for $2/1 MAM Product.
MAM Pacifiers $3.29 – Clearance may vary!
$2/1 MAM Product
$1/1 MAM Pacifiers June Walgreens Coupon Book – valid on 2 pk
= $0.29
Remember that clearance can vary widely- I was not looking for it yesterday I just happened to pop in to get a pack of wipes for the car ride – and saw one left on the hook.. you might get lucky and find them at your store too.