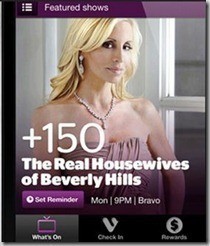 Just a few months ago, I shared how Viggle helped a reader earn $175 towards her trip to Disney . It has been a long, long time since I have talked about Viggle.
If you aren't using Viggle it's time to get started – I use it as well (though I don't get a lot of time to watch television.. not as much as I'd like!)
Viggle allows you to earn points watching TV (& doing other activities as well!)  If you are not using Viggle, you can sign up HERE.
You can also earn bonus points by answering trivia during a show… or watching trailers & ads – sharing your check-ins on Facebook or participating in Viggle Live.
To get started:
::: Find Viggle in the Apple store or on Google Play – download

::: When you watch TV, have your device next to you

::: Log in to Viggle when you watch TV and click "Check in" – some shows give a certain amount of points for watching a specific show

::: You can also earn by doing trivia, and other random items on your device as the show is on.
What Viggle allows you to do is watch your regular Television at home, and have your device (iPad, iPhone or Android) with you so that it can "listen" – or, check in, to your Television show. Each day, Viggle gives different point amounts of checking into various shows.
You can use the points you earn to work your way to gift cards, such as Starbucks, CVS and even large ticket items such as Xbox 360 game machines, and iPads as well.