A few weeks ago I shared with you my favorite money-saving apps. A few weeks ago I reminded you that iBotta is a great one to pick up – last week, we talked about Checkout51.
AND, this week we'll focus on SavingStar.
You can easily save money on your grocery bill with SavingStar – if you are new to SavingStar, it's a rather easy way to shave a few dollars off your bill.
SavingStar allows you to save electronic coupons to your card that you can redeem at your favorite store. They are an easy way to coupon, without having to actual clip paper coupons.

SavingStar coupons are one time use – they do not come off your grocery total – but they DO get deposited into your SavingStar account 7-30 after your grocery purchase. The individual SavingStar offers are not intended to be used with Manufacturer coupons, but the special purchase offers can.

Special purchase offers (such as the Smart Ones– above) can be done over several trips and can be combined with Manufacturer coupons.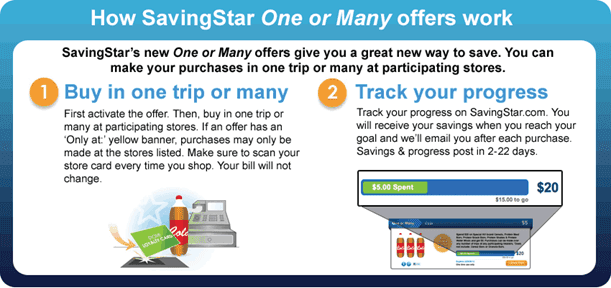 SavingStar allows to you cash out your savings at $5.00 – in the form of Paypal, Amazon gift card and more. To get the savings:
:::: Sign up for SavingStar. Identify your card number (CVS, Fry's, Kroger, Bashas, etc) in your profile.

:::: Select the eCoupons you like on the website or mobile app, and they are automatically linked to your store card.

:::: Use your card when you checkout and the money is added to your SavingStar account.
The savings don't change your bill at the register and the savings are not printed on the receipt. Instead, they get deposited into your account within 7-30 days depending upon where you shop.

:::: Once your SavingStar account reaches $5 in savings, you can pick your payout from a bank account deposit, a PayPal account deposit, an Amazon gift card, or a donation to charity.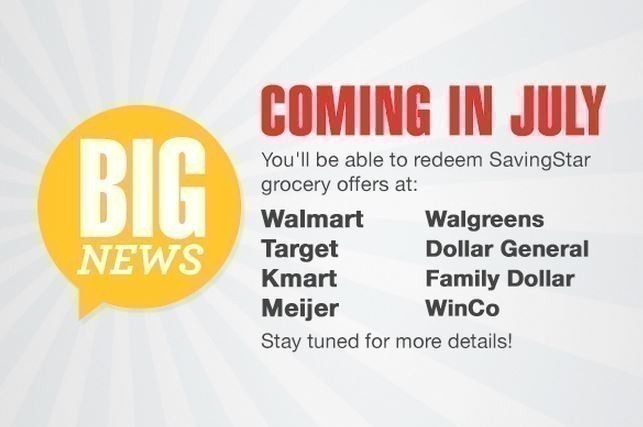 And NOW, you can now use SavingStar at Walmart, Target, Kmart, Meijer, Walgreens, Family Dollar, WinCo & more.
To do so, you'll need to grab the SavingStar App for iPhone HERE or Android HERE
For automatic-savings stores, use your registered card at checkout as you normally do. For receipt-scan stores, take a picture of your receipt with the SavingStar app.
Discounts are not received at checkout. Savings will post within 2-22 days depending on the store. You'll receive an email when they post to your account.