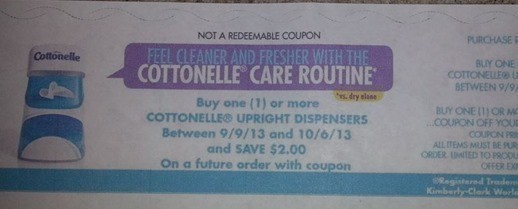 We have a catalina coming up tomorrow at Walgreens in addition to many others I posted recently. Michaela scored this one today:
Cottonelle Upright Dispensers (9/9 to 10/6)
Buy 1 & get $2 On Your Next Order
Her notification came from Walgreens; it very well could include other stores, we will have to see with time.   The dispenser runs $5.99 and includes 42 wipes.
You can see this and more on the Catalina Page – and, also read more about what you can do if your catalina does not print.
thanks, Michaela!