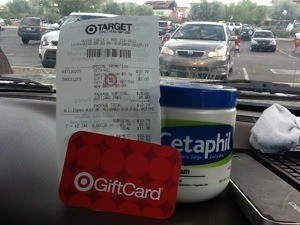 This deal at Target is still working as of today; if you haven't yet made it over to pick some up, it's a super price.
It's not an advertised offer, and we're not too sure of the end date.
Cetaphil Tubs are $10.79 – there is an unadvertised gift card deal with them for $5 – you are only required to buy 1. ONLY the Tubs work, and as stated before, we have no end date. My Target in Queen Creek had about 8 or 9 on the shelf, I bought 1.
Deal Idea: Buy 1 Cetaphil TUB ONLY $10.79
Use $1/1 Cetaphil (Facebook)
= $9.79 | Earn $5 Gift Card (Target)
Final Price: $4.79 ea.
That's over 50% off – great deal if you have kiddos that use it (we do)