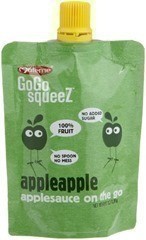 We scored another NEW offer for GoGo squeeZ today on iBotta – for $.75/1 ANY GoGo SqueeZ Item. Pair this with the printable I posted earlier for $.75/1 GoGo squeeZ and you can score $1.50 off ONE.
The 4 pk runs $2.50 at Walmart but earlier today I let you know that Michelle found the singles for $.75 at Target – FREE after printable and a moneymaker after the iBotta coupon.
GoGo squeeZ Pouch, Single $.75 (Near to Registers)
$.75/1 GoGo squeeZ (Facebook)
Stack with: $.75/1 GoGo squeeZ iBotta Offer HERE
= FREE + Moneymaker
In celebration of iBotta's Hallmark Channel Home and Family, they are offering a $5 Bonus for Redeeming 2 offers and signing up 2 friends… through June 23rd.
Remember – this is in addition to the current bonus available for $10.00 as well. If you are new to iBotta you can earn a $10 BONUS for signing up.