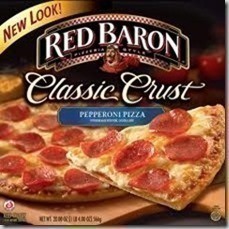 Here's a neat deal coming up. Yesterday I posted the opportunity for you to earn a FREE Iron Man 3 Movie Ticket (or, movie ticket up to $12.99 for another adult admission) when you buy (4) Participating Products.
You can see the offer HERE – it starts 3/25.
Through 3/26, you can pick up the best deal at Target or Safeway:
Target: 4 Red Baron Pizzas for $12.00
OR, Safeway: Red Baron Pizza $3.33 ea. (thru 3/26) – so for 2 days ONLY!
The certificate, which is $12 in value, will be available to you once you enter the codes HERE from your purchase. Remember – it's only on specially marked packages!