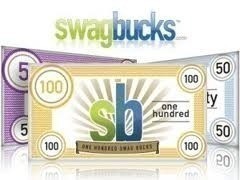 Another Friday means another Mega Swagbucks Day.   Many of you on Facebook are using Swagbucks with me….  Today you might be able to score more Swagbucks than normal – just by doing what you do normally = searching the web.  I'm saving for …. well, I'm not sure what I'm saving for. I just know I'm saving!
If you are new to Swagbucks, you'll earn 30 Swagbucks just for signing up… too!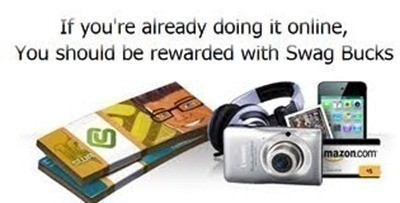 There are many more ways to earn as well:
::: Taking Surveys You can earn 1 Swag Buck per day by heading to the Survey page to take a survey – you can also take more surveys that will help Swagbucks offer you more targeted surveys with higher payouts.
::: Watching Videos You can watch videos – and Swagbucks will pay you random Swagbucks for watching TV. Not all.. but you might get a chance to earn.
::: Completing Special Offers You can earn Swag Bucks for signing up for Netflix, amidst other random offers. The offer should credit Swagbucks to your account within the day – but may vary from offer to offer.
::: Finding Swag Codes Swag codes are just that: codes – you can enter in the Swagbucks Search and Win box for instant credit to your account. These codes will be posted at various times of the day on their Official Swagbucks Blog, Facebook Fan page, Twitter, and more. You'll need to catch that code and enter it in the "Search and Win" box on the Swagbucks homepage.
::: Birthday Swagbucks Let Swagbucks know your birthday and you'll earn 50 Swag Bucks on your special day!
::: Shop and Earn You can also earn from over 250 stores including Walmart, Sears and Target when you shop through Swag Bucks for your items!  The Swagbucks Shop & Earn makes your online shopping more rewarding by helping you earn reward points towards free stuff for every purchase you make from over 250 different online retailers. Start shopping today and get access to special deals, discounts and coupons and save while you earn."
You can them redeem those Swag Bucks for items such as Amazon Gift Cards, video games………Roku and even a Kindle Fire!  You can score $5 to Amazon or Starbucks for as low as 450 points.
Save up all your cards & order Christmas shopping, and not have to worry about fighting the folks at the mall.
SwagBucks is a super cool way to earn and reward yourself 🙂   Now.. I'm saving up for a Starbucks Gift Card…. so that we don't burn our budget on buying coffee!