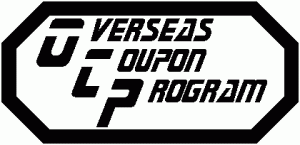 Every week, I see many of you ask questions in regards to expired coupons – and supporting military families overseas with those coupons. I do save my coupons and send them overseas – I usually alternate locations to which they go and at very bottom I gave you a great resource for more information.
For military families accustomed to relocation the transition can be very difficult.  Enlisted soldiers and their families may find stretching their dollars a real challenge, even more so then those who are based in this country.  But…….WE can help by sending those families our expired coupons or….sending them to cooperatives (co-ops) around the nation who can pass them along.There are several military family support centers overseas who offer coupon exchanges. The military commissaries (grocery stores) overseas accept manufacturer's cents-off coupons for up to six months past their printed expiration dates.
Some tips for gathering those coupons:
Do not send Internet Printables! We're only talking about insert coupons.  Most of the families overseas cannot use Internet Printables.
Cut and trim the sides of the coupons. This is not only helpful to the receiving centers, but you do not want to pay postage on dead weight.
Separate the coupons into two major categories – Food (for humans) and Non-Food (pet food would be non-food). Place them in large sealed freezer bags and label.
Attach a dollar total of the coupons onto the bag.
Prior to sending your coupons, you may want to touch base with whom you are sending them to, to make certain that they do not have any other preferences for you to follow.
Why not adpot Your Own Military Base?
You may elect to start your own co-op. Often individuals who are interested in doing this will "adopt" a military base for their co-ops contributions. The process just takes good organizational skills and a team willing to help.
Get a Group Together!
Are you a teacher? School leader? Make it a classroom project! Reach out to the parents and let them know that they can bring their expired coupons in to the classroom/school.
Get your church involved! The congregation can adopt a co-op and gather the coupons to send over to those families. Wouldn't that be a neat project?
Where do I send them?

Michelle of GrocerySavingsTips has a great site that details where you can send them. She keeps it updated frequently. Head over here to see her list of co-ops!
I know some of you send coupons overseas regularly- if you do, please let us know in the comments so that others can join you in your efforts.