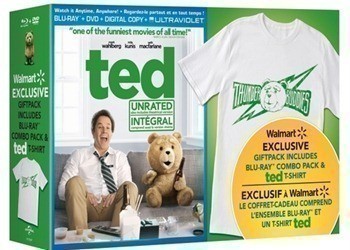 If you have ShopKick you can earn an easy 200 points at Walmart and Target by scanning the Limited Edition of TED on Blu-ray (pictured above – Walmart)…and the Blu-ray at Target (not pictured).
You will get 100 points at each Target and Walmart.
If you are not yet with ShopKick you can sign up through my link HERE, and earn a bonus 50 Kickbucks AND a $25 Restaurant.com gift card.
::: Sign up HERE for Shopkick – you'll earn 50 Kickbucks
::: You will get a text Message to download the app – click that link
::: Once you click the link, install the app.
::: The Restaurant.com gift card will be dropped into your account the first time you walk into a participating Shopkick store and open the app on your phone (easiest stores to do this at are Old Navy & Best Buy as you can do this at any of their stores Nationally)
::: Once you open the app on your phone in the store, the system will recognize you and credit those points & Restaurant.com gift card right away.