Today Shopkick is getting a beautiful makeover with catalog-like 'lookbooks' and more ways to earn rewards in the app.  You can see a NEW YouTube video of the changes and design HERE.
With Shopkick 3.0 you can:
Discover: 
Anytime, anywhere browsing of content-rich 'lookbooks' reveals must-have items by store or brand. Replaces a stack of catalogues; convenient without clutter!

Save: 
Simply drag and tag desired products  – then walk into a partner store, and an on-screen reminder will display when those saved products are available

Locate:
A quick glance reveals high-value shopping areas, making it simple to plan the most fruitful route that also minimizes the number of trips taken (pretty neat in my opinion!)
AND to celebrate the makeover, we have some awesome deals!
OLD NAVY: Spend $25 and earn $10 in super c-a-s-h! Valid 11/1 – 11-7
Toys R Us: Save 20% on the purchase of a regularly priced item of $100+, 15% off an item $50-$99, and 10% off and item $49.99 or less!
Buy 1 get 1 50% off on all Barbie sets and dolls
Plus get 500 kicks when you spend $55 if you link your Visa or Mastercard to Shopkick with the buy and collect promo!
Best Buy: New scan mission at Best Buy – get 100 kicks for scanning the 3 cameras listed in the app!
Get 1000 kicks when you spend $100+ if you link your Visa or Mastercard to Shopkick with the buy and collect promo!
Target: Buy 1 get 1 FREE Starbucks hand-crafted espresso beverage Limited time only!
CVS Pharmacy (SF Bay Area Only): Get 100 kicks for every $20+ dollars spent with the buy and collect program (just in time for flu season)
If you're not familiar with ShopKick, it is an app that is available for Android or iPhone – and it allows you to be rewarded with "Kickbucks" when you walk into participating stores.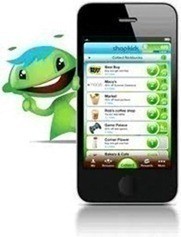 You can earn rewards from simply entering the store, or even from scanning items…they even give you Target Shopkick Coupons as well –for additional savings. You can then treat yourself using those "kicks" to get Starbucks gift cards, and more.
AND… if you sign up for Shopkick through my link HERE, you'll get a bonus $25 Restaurant.com gift card.
::: Sign up HERE for Shopkick
::: You will get a text Message to download the app – click that link
::: Once you click the link, install the app.
::: The Restaurant.com gift card will be dropped into your account the first time you walk into a participating Shopkick store and open the app on your phone (easiest stores to do this at are Old Navy & Best Buy as you can do this at any of their stores Nationally)
::: Once you open the app on your phone in the store, the system will recognize you and credit those points & Restaurant.com gift card right away.