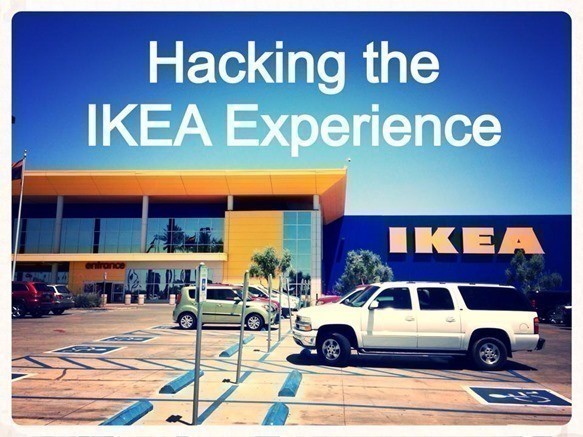 I posted this last month, and wanted to post it again… for those of you who missed this. My good friend Danielle is an Ikea-aholic – she has all kinds of tips for saving at this popular store – she shares some of them with us below.
Do you love Ikea? Many of us do…. just recently, I discovered that Ikea has an "As-Is" Section. I had no idea that I could pickup even greater deals at one of my favorite stores. My friend Danielle is one of the biggest fans of the store, and was excited to share some tips to saving huge at one of the most popular Home-stores around.
I've been IKEA-obsessed for over a decade. Even though I know the store and the products like the back of my hand I still take my time to prepare for my trips online because IKEA can be an intimidating place.
First thing's first, create a profile on IKEA.com. This will allow you to save items to a shopping list, see if they're in stock, and even see what isle and bin numbers they're in if you want to avoid IKEA all together. Pop in, get out, go home and build some things!
Take some time to browse IKEA.com and their digital catalogues. This should reduce the amount of time that you're actually in the store. Their displays and new items can easily distract first timers!
Did you know that each IKEA store also has their own page on IKEA.com? For Tempe IKEA click here.
From here you can search for monthly in-store specials and other promotions. Don't forget to check out their restaurant and market offers as well! IKEA makes a wonderful date night or family night on the cheap!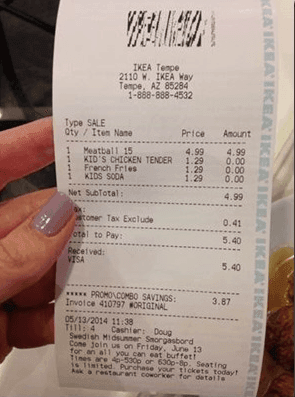 MONDAY
IKEA FAMILY Members receive a FREE cool bag with a purchase of $25 or more in the Swedish Food Market. Reg $5.99 Must show IKEA FAMILY card for offer.
---
TUESDAY
Kids Eat FREE! Children 12 and under can choose from one combo meal valued at $2.99.
---
WEDNESDAY in the Restaurant
Feed a family for four for only $9.99! Includes two adult entrees (value $6.99 or less – beverage not included) and two kids meals (value $2.99 each).
WEDNESDAY in the Swedish Food Market
20% off ALL Salmon products in the Swedish Food Market including marinated salmon; smoked salmon, frozen; marinated and smoked salmon; salmon fillet, frozen; PASTEJ LAX, salmon spread.
---
THURSDAY
Roasted chicken with mashed potatoes only $1.99! Reg $3.99
---
FRIDAY
Fish and chips only $1.99! Reg $4.99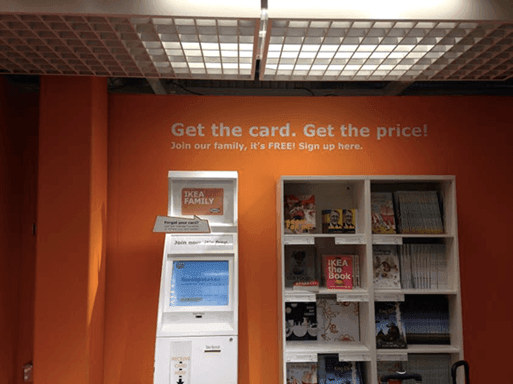 OK, so you have your list and measurements in hand – lets go to IKEA! Be sure to stop at an IKEA Family Kiosk and get your shiny, orange IKEA Family card! This is what it gives you:
Additional discounts in the restaurant
A chance to win a $100 IKEA Gift Card
every time you scan your card in the store
FREE coffee or hot tea at
the restaurant
More Småland time for the kids— 90 minutes total on Mondays, Wednesdays, Thursdays and Fridays (capacity-depending)
Free frozen yogurt with a purchase of one at regular price when you pick up your card for the first time
90 Day Price Protection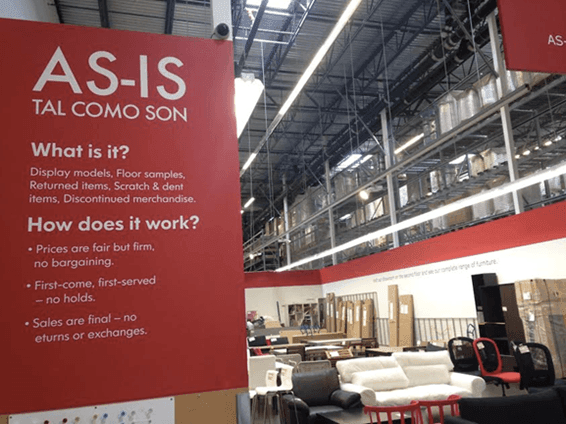 Once you've gotten your little ones squared away, make a B-line for the As-Is section. It's located downstairs, tucked away between the very last isles of the warehouse and the registers. Chances are, what you're looking for is already here!
***Shop As-Is on Wednesdays and get an additional 10% off***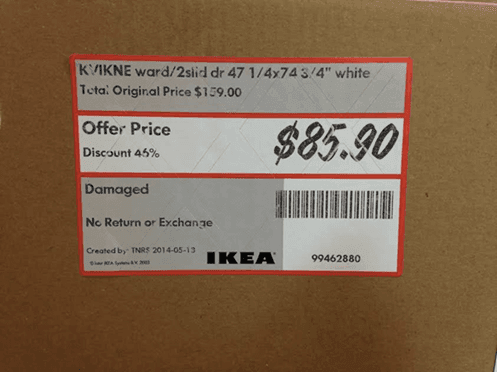 Every price tag looks like this. It shows you the name of the item, the total discount, and WHY it's in the As-Is section. Some items say damaged, scratched, chipped, discontinued, returned by customer, floor display, or has a missing piece.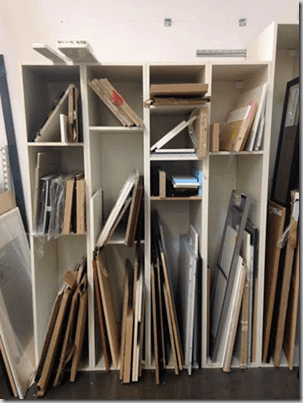 This is the Handyman Corner. Here's where you'll find shelves, doors, drawer fronts, and panels. Visit ikeahackers.net for some excellent ideas on how to transform any IKEA item and get crafty!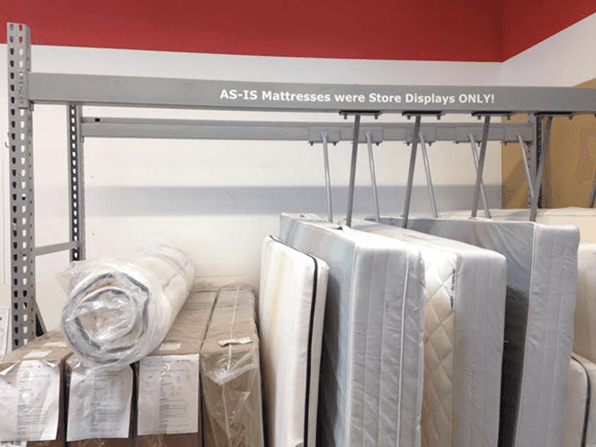 The As-Is Mattress section is a steal as well! Your 'brand new' reduced price mattress may have has a few hundred butts on it, but that 30-60% discount might make it worth it! Nothing a mattress pad can't fix right?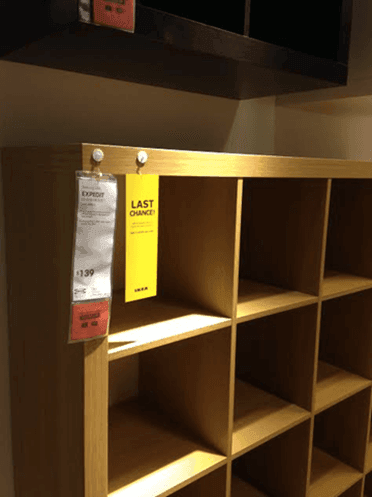 So you've managed to pull yourself away from the As-Is section but you're still on the hunt? Look for these bright yellow LAST CHANCE tags!
When they say last chance, they mean it! These items are being discontinued and transitioned out of the store to make room for new stuff. If you've been coveting something and don't want to risk not having it then you'd better hurry up and grab it.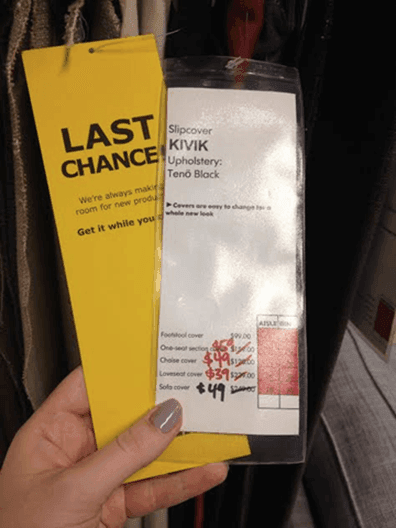 However, if you're a gambler then you can get one heck of a steal! I recently bought a $250 sofa cover for only $50!
If you want to risk even more, these last chance items might even end up in the As-Is section. I was able to score replacement covers for my chair and ottoman at an 80% discount – they would have cost me $98, but instead I only spent $19.80.
I totally understand that IKEA isn't for everyone. If you make the trip and don't find anything that's for you, don't make the whole day a waste. IKEA's $0.99 toilet brushes and $0.49 dish brushes are SOOO worth it!
For additional help, please visit IKEA's Practical Tips Page.
Thanks, Danielle!
Related Posts: