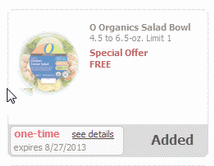 WOWsers – if you haven't logged into your Safeway Just 4 U give it a try! Look what MJ found in her account!
Safeway is good to me this morning – free O-Organics salad bowl and $1.49 personal price on the mini watermelons.  My Safeway almost always has the Dulcinea brand mini watermelons, so after that Facebook printable, only 49 cents!  Looks like I'm having a watermelon agua fresca drink!
Remember that each person may have different offers – it's a great idea to take a peek at what you have for this week and save to card.
thanks, MJ!