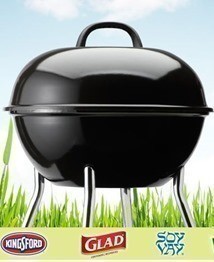 This is your daily reminder to head over and log into the Fry's "Get out and Grill" Game HERE – and play daily to see if you win 1 of over 9,000 prizes or a $50 Gift Card – if you are a Kroger shopper head HERE.
Some of you won a gift card .. some of you got Charcoal and some got a FREE Soy Vay.
You can play daily through August 3rd, and you can win one per prize (one per day)…
They have over 9,000 prizes to include a FREE Angus Hot Dog Pack, FREE Ball Park Frozen Patties, FREE KC Masterpiece, FREE Hidden Valley Sandwich Spread + more.