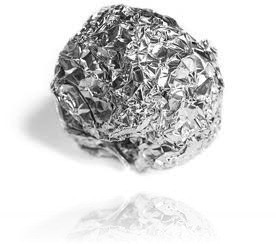 I know for many, Fabric Softener is a staple in your laundry room. For me.. I have it, I actually make my own (see HERE for more) – but I rarely use it. A gallon of my own lasts me a very, very long time.
I usually use it on my blankets and sheets – never on my towels.  Fabric softener puts a film on your clothes that makes them less absorbent; the film wears down the fibers faster.
It's actually quite ironic to use it on towels, as the purpose of a towel is to dry you off, but it won't do as good of a job if it's not as absorbent. So I use vinegar – it rinses out all the residue, and it helps hold color as well.
Though here's a great way to use the end of the roll of Aluminum Foil – ball it up into a 3-4 inch ball – and toss in your dyer with a load of damp clothing. (Or, wrap a tennis ball in aluminum foil for the same effect).
The foil acts as a conductor to attract static.  When the clothes are done, they will not stick.  Better yet, you can actually leave it in there for a few weeks at a time… it serves the same purpose of a wool dryer ball, but without the hassle of making one.
To see previous "Reduce and Reuse" from this 30 day series take a trip back HERE.