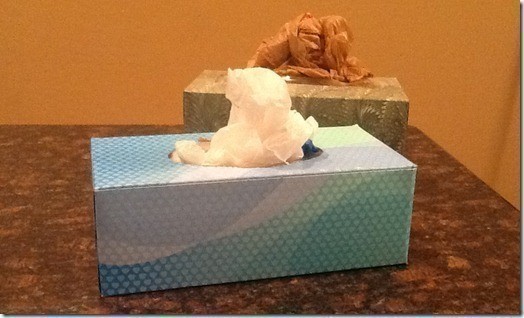 Dave and I cleaned out he truck yesterday…. boy what a mess. Kids will do that to a vehicle. I found 4 boxes of Kleenex in there. I'm not sure how we inherited 4 boxes in there.. but hey, 3 of them needed new homes. 2 were almost empty – and as Dave tossed them in the aluminum bin at the Dolphin Car wash in Mesa, I came around and picked them out.
At that point I realized I would have no trouble thinking of a post for Reduce and Reuse on the blog.  And so the Do it Yourself plastic bag holder was born.
Great solution to the mountain of bags I have stuffed in the drawer in the kitchen. I can now put one up stairs and one down, works great for the days I don't feel like going downstairs to get a plastic bag!
Note: If you buy Kleenex always try to get a pretty box – I didn't think about this earlier and got the standard blue and green boxes.
To see previous "Reduce and Reuse" from this 30 day series take a trip back HERE.