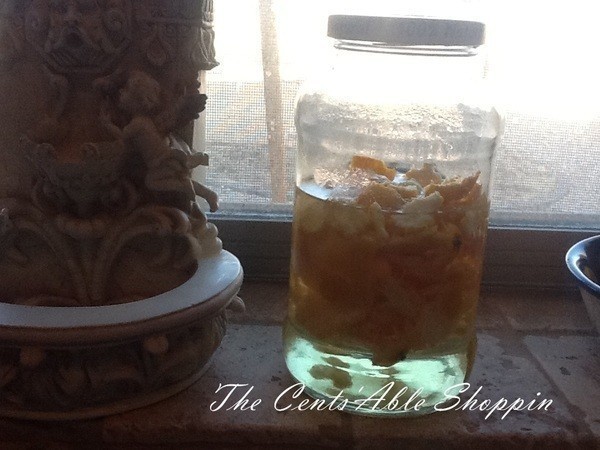 This month I'm starting a new series – after cleaning up the kitchen last week, I couldn't help but find myself frustrated with my 6 year old………. empty bottles, orange peels all over……… cereal boxes left wide open, then come and find Dave had left a 6 pk of Dos Equis Cardboard Holder in the kitchen as well.
I felt bad throwing them out.. so I stuck all these empty containers, and kept the orange peels hoping to find a second use. It sure wasn't something he was proud of when his mom came over, but because my mother in law loves to reuse things, I'm fairly certain she saw the positive in my intent 😉
Each day through January, I'm goin to find a way to Reuse and Repurpose something you find yourself using on a daily basis – whether orang peels, or, milk jugs, and the list goes on. Hopefully you find it just as helpful – and I sure hope it inspires you to think twice about tossing something in the trash can outside on a Tuesday morning.
Today we're making Orange Cleaner – see the jar above? It's just a Ragu jar……… I keep my empty jars, they tend to work for odd things around the house.
Orange Cleaner is amazing – even better when you can make it yourself – no better feeling. And since we have great deals on Oranges and Clementines almost weekly, it should be easy for you to do.
Save up all those Orange Peels you have – we save them up quite fast. Fill a jar with the peels, and pour in enough Vinegar to cover them all. Screw that lid on well, and let it sit on the window sill. I need to throw today's in mine, I have a whole huge bowl of peels from this morning's breakfast.
Shake it up each day, and keep letting it sit.. at least 14-16 days. .. the longer, the better. Each day, the vinegar will get more syrupy – that's what you want 🙂
After 14-16 days, strain out the liquid, and toss the peels outside in your garden; mix two parts of water to one part of your Vinegar mixture – put it in a spray bottle and give it a whirl  – you'll find yourself tossing out all of your other old cleaners.
If you are wondering if lemons and limes work as well – they sure do…….great way for you to put those lemons to work on your lemon tree.