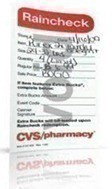 Many of you head to CVS on a Sunday morning and find the shelves wiped out…… Sounds like my old experiences! I used to have to get there at 7, to grab the deal I wanted.
I can honestly say now that you won't find me at CVS on a Sunday. because, I can get a rain check.
Most of us are fairly adjusted to getting rain checks in cases where items are out.
A rain check is a slip of paper from the store that will permit you to purchase the item as advertised, at a later date when the product is in stock.  At CVS, rain checks are good forever. At Fry's they last 30 days. And at Safeway, usually 90 days.
To get a rain check, just request one at the checkout, or, at the customer service counter. Fry's will give rain checks at Customer Service, while CVS will do them at the front counter. Usually a copy of the ad is all that is necessary. Fry's will usually only do a rain check for an item that is advertised in the ad, unless the cashier wants to be more accommodating.   I recommend having a spot in your accordion file strictly for "rain checks" – that way you don't lose track of what you have.
Before Asking for a Rain Check……
Ask for a substitution.  It doesn't ever hurt to ask……  Sometimes you may even have a coupon for the item that they substitute to you, which makes it a greater deal. Sometimes CVS will substitute 🙂
How they can help you later
If you don't get "in" on the deal, grab the rain check.  Down the road, you may be fortunate enough to get an even higher value coupon to "pair" with that rain check. Even more, in the case of CVS, you may even get a $5 off $25 – that is good for 3 days only. If you have rain checks in the stash, and you have coupons to "pair" with them, you can "make your own deal".
I never ever shop at CVS on a Sunday – I live with rain checks. That way, I can "make my own sale" whenever I want – and on my own time
  As for Walgreens……..well, I will get a rain check, but it definitely depends on the store/cashier/manager, and it's usually not as easy.
By grabbing a rain check, you extend the sale to yourself. If your store limits to 3 "like" coupons (for doubling), then go one step further – every time that you go to that store & find the item "out of stock" – ask for another rain check. Then you can split the transaction without having to worry about the "3 like coupon" policy.
If the store fails to have any more in stock before the rain check expires, let the manager or customer service counter know: it is their duty to ensure that they keep sufficient stock in the store.
A 30-day rain check should have afforded them that opportunity – if it didn't, and they are still out, you are entitled to another extension on that rain check so you can get the items as were advertised in their ad.
Tonight I felt like I was in a bind… I got a $4 off $20 from CVS (that expired today) – and.. was pretty sure I was going to just grab some more Aveeno. But.. get to the store, and the situation was a bit different. Only 2 bottles left, and nothing else in stock for me to buy. So I dug around in my purse and found a rain check from February of 2011. (WOW – that's old!!)
This is what I did:  Bought 2 Aveeno $4.99
Bought 1 Blade Razor (Raincheck Item) $6.99 with $7 ECB
Bought 4 Sierra Mist 2 liters $.99 ea.
Bought 4 Mars Candy $.75 + $1.19 + $1.19 + $.59 (clearance)
= $24.66
Use $4 off $20 from the email – expired today
Used 4 – $1/1 Sierra Mist Blinkies (Thanks Xi Piao for sending me those!)
Used $3/2 Aveeno printable – no longer avail
Used Buy 2 Get 1 FREE Mars (tearpad in store – thanks Michelle)
Paid with $12 from Earlier Aveeno Deal I did today
=  $.47 before tax | I earned $7 from Blade + $6 for Aveeno
I turned $12 ECB into a profit of $1 even after making a purchase 🙂 
I could have probably done better.. but kids and husband in the car, honking the horn, I was forced to hurry….