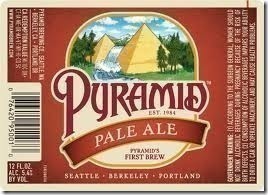 Wow – found a great deal that you can take advantage of.. this is a neat one.
Pyramid Ale is offering $10 back on any (2) 6-pks or (1) 12 pk of ANY Pyramid Ale and $10.01 in eligible Michael Symon Food Pairing Recipe Ingredients.
The offer is open to all states with exception of AL, AR, DE, FL, IN, KS, LA, ME, MN, MS, ND, NH, PA< RI, SD, TN, TX, VT and WV.
You must buy:
(2) 6pks of Pyramid Ale OR, (1) 12 pk
$10.01 or more in Michael Symon Food Pairing Recipe Ingredients
The rebate can be done 3 times per person, and if you are in a "No Beer Purchase Required" state, purchase of the beer is, of course, not required 😉
Some of the food pairing ingredients include (and can be on multiple receipts):
Salt
Pepper
Ketchup
Cheddar Cheese
Pickles
red Onions
Eggs
Bacon
Hoagie Rolls
English Muffins
Lemons
Malt Vinegar
Brown Sugar

Mustard Seed
Garlic
Olive Oil
Sherry Vinegar
Chili Flakes
Cinnamon Sticks
Cumin Seed
Coriander Seed
Ancho Chile powder
Crushed Tomatoes
Meat – Brats, Ground Beef, Pork Shoulder, Pork Chops
Fresh Rosemary
Fresh Thyme
Pyramid Ale 6pk is $6.49 at Safeway – some of them have peelies on them for $3 off ANY MEAT with purchase of (2).
Note: This offer is comprised of two separate Food Pairing Rebate Offers: (1) The "Spring/Summer Rebate Offer" which features ingredients used in certain Spring/Summer-themed recipes, and (2) the "Fall/Winter Rebate Offer" which features ingredients used in certain Fall/Winter-themed recipes. You may submit your rebate claim(s) for either the "Spring/Summer Rebate Offer" or the "Fall/Winter Rebate Offer" at any time subject to the postmarking deadline stated below