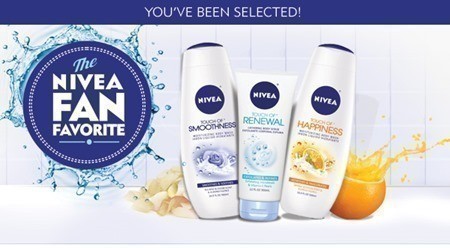 Did you enter this yet? If you haven't, you might want to put in your entry… I just scored an email that I won! WAHOOO!!
Thank you for entering the NIVEA Fan Favorite Contest. We're happy to announce that you have been selected to award the NIVEA Fan Favorite bodywash.

In the next few days you'll receive a package containing 3 NIVEA bodywashes. We ask that you sample all 3 and then return to the site (there will be more information in your Fan Favorite package) and vote for your favorite.

Be on the lookout for a package from NIVEA!  Congratulations on being selected.
Play the Nivea Fan Favorite giveaway through August 11, for your chance at 1 of 400 Prizes, valued at $12.05. 
The prize is a package of their most highly awarded body washes – they are giving away 50 each day for one week in length.  You will also score a coupon for $1 off Nivea Body Wash or Scrub. 
See more in the Sweepstakes Round Up as well.