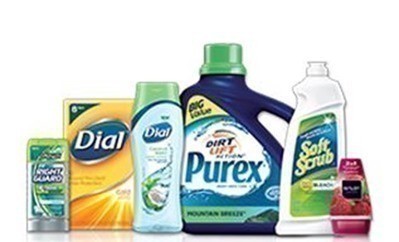 We scored a new SavingStar offer this week – for Henkel Products, that works super at CVS the week of 9/8.  If you save it now, you'll have it for that week. Purex is B1G2 FREE, prices range $6.29 – $6.49 and got2b will be 2/$8 as well:
Even better, it gives you time between now and then to hopefully write to Purex and request coupons:
Deal idea: Buy 6 Purex Buy 1 Get 2 FREE $6.49 ea. (prices may vary)
(Limit is listed as SIX in the ad)
Buy 3 Renuzit Cones $.99
Buy 2 Softscrub 2/$5
= $20.95
Load your SavingStar Offer HERE
Use 1– $1/3 Renuzit Cones
Use 2 – $1/1 Soft Scrub Cream Cleanser HERE (scroll down)
Load $1 off 1 Purex SavingStar offer
= $16.95 + tax | Earn back $5 in 2-3 weeks after purchase
Making ALL items $11.95
You will see the $5 credit to your SavingStar account after you reach the threshold – you do not have to do it all in one trip.  You can then redeem your savings for gift cards or cash.