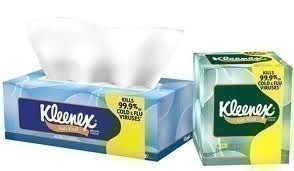 We have a new catalina for Kleenex – should come in handy for getting sick starting today.
Kleenex 50 ct or +
Between 9/3 and 9/30
Buy 5 & get $1 ONYO
Buy 6 & get $1.50 ONYO
Buy 7 or more & get $2 ONYO
(Albertsons, Bashas, Fry's, Walgreens)
You can print a $.40/3 Kleenex – some of you might have a $.60/1 Kleenex from the La Voz – I can't remember when they expire though that would make a better deal.
It was last year about this time that we had some great Kleenex deals – keep this coupon handy and lets hope we can see Kleenex come on sale at Fry's as part of the Mega.