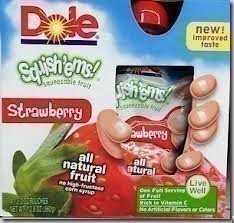 Woo Hoo! We have a NEW Catalina that popped up today for Dole Squish'Ems, great deal.. I have been aching to buy these for the little guy!
For those of you on Facebook you already know it's all my little one eats.. pouches, and pouches, and more pouches!
Dole Squish'Ems
Valid 2/25 to 3/24
Buy 2 & get $1 OYNO
Buy 3 & get $1.50 OYNO
(Valid at Safeway only!)
Starting tomorrow they are on sale at Safeway for $2 ea. and extra Just 4 U savings, lets hope we get some coupons too!
Dole Fruit Squish'ems!, Fruit Bowls, or Fruit Cups $2.00 (Lim 6)
Just for U -$0.25
= Pay $3.50 for 2, and earn $1.00 OYNO
Final Price:$2.50 for 2, or $1.25 ea.
Lets hope we see some new coupons .. we should, since it's rather new – we can get an even greater deal!