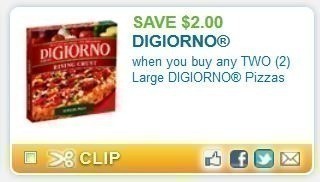 Super coupon and perfect timing! Print a new coupon for
$2/2 DiGirono Pizza at zip 53213.
It works great at Safeway and Fry's – we have a new catalina that started for the month of October.
DiGiorno Pizza, 12″
10/1/12 – 10/28/12
Buy 2, Get $1 OYNO
Buy 3, Get $2 OYNO
Buy 4 or more, Get $3 OYNO
(Fry's, Safeway)
The pizza runs $5.50 at Fry's – this will work super if we can grab the pizza on sale… perhaps this week at Safeway.
Thanks, PC&D