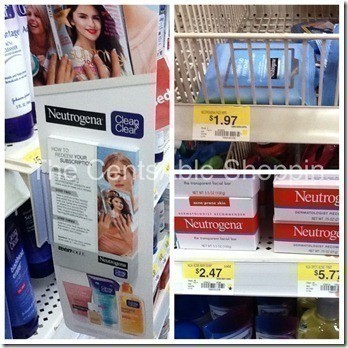 I found another $2/1 Neutrogena Face product coupon last night – works well for Walmart (or, Target!)  You'll need to register or log in, then click "Coupon" at top, and you'll see it on page 2.
You can use it to grab more free facial wipes OR cheap soap from Walmart. Target has the same price as well.
Neutrogena Soap $2.47
Neutrogena Makeup Remover $1.97
$2/1 Neutrogena Face Product
= FREE – $.47 ea.
Even better, is this extra offer: "Buy 2 Neutrogena OR Clean & Clear Products (no size restriction) + get a FREE ONE Year Subscription to Teen Vogue Magazine".
The offer states you need to purchase (2) products, and take a photo of your receipt of purchase, and email with name and address to where you want the subscription sent to – TeenVogueSub@cdsfulfillment.com.
Offer is limited – receipt numbers will be checked, and receipts must be postmarked by 10/1 for purchases made PRIOR to 8/31.
No official form is needed, and purchase does not have to be made at a specific store.