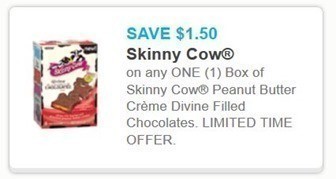 Grab a new coupon for $1.50/1 Skinny Cow Peanut Butter Creme Divine Filled Chocolates – at zip 99218.
(To change the zip click HERE, punch in zip 99218, then go HERE, click the appropriate category & you should see it).
It might work super if you can find them at CVS – they are 2/$6 this week (thru Saturday) + $3 ECB wyb $10.
$3 ECB WYB $10 OR Get $5 ECB wyb $15 on these items: – Limit $5 ECB
Snickers Fun Size, Kit Kat or Reese's Snack Size 10.5-11.5 oz 2/$6
Twizzlers Bonus 15.4-17.6 oz 2/$4
Orbit Gum 14ct. 3/$3
Skinny Cow candy 6ct., Hershey's Pouches 5.6-10.5 oz or Ice Breakers Ice Cubes Gum 40ct. 2/$6
Hershey's, Twizzlers or Russell Stover Sugar Free 3-5 oz 2/$3
Lindt truffles or Ghirardelli squares 4.12-5.32 oz 2/$8
Mentos Gum 15 ct. 2/$2
Lindt, Ghirardelli, Ritter Sport, Milka or Toblerone 3-4.4 oz 2/$5
LifeSavers 6.25-7 oz or sugar free 2.75 oz $1.99
Nips 4 oz $0.88
Deal Idea: Buy 4 Skinny Cow 2/$6
Use 4 – $1.50/1 Skinny Cow Peanut Butter Creme Divine Filled Chocolates zip 62946 or $1/1 Skinny Cow Multipack 4.65-6 oz 4/28 SS (x 7/31)
= $4 | earn $3 ECB
Final Price: $.25 ea. wyb 4