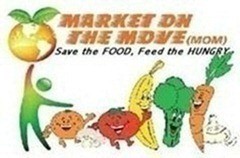 If you missed this last night, tomorrow is another "MOM (Market on the Move) produce market & co-op. This your chance to get [up to] 60 lbs of produce for $10.
This is a non-membership required program that allows you to get up to 60lbs of produce for a mere $10.
The goal is to get you to share that produce with people who may not be able to afford produce.
Keep in mind the produce will be "good" quality, but not the same quality you find at your local supermarket; with that in mind, it's best to share with others, OR, plan to "can" the produce you manage to obtain so as to extend it's life.
Below are the details for Market on the Move locations Saturday 1/19:
METRO PHOENIX
Bell Mar Plaza, 11340 W. Bell Road, Surprise 85378
McDowell Mountain Community, 10700 N. 124th Street, Scottsdale 85259
Orangewood Elementary School, 7337 N. 19th Avenue, Phoenix 85021
PH Gonzales Elementary School, 9401 W. Garfield Street, Tolleson, 85353
Pure Heart Christian Fellowship, 14240 N. 43rd Avenue, Glendale 85306
St. Gabriel Church, 32648 N. Cave Creek Road, Cave Creek 85331
TUCSON
Most Holy Trinity Church, 1300 N. Greasewood Road, 85745
St. Pius X Church, 1800 N. Camino Pio Decimo, 85715
Vision Church, 7555 W. Twin Peaks Road, 85743
Each location is from 8-11 a.m. – you can see more on their site HERE, or, by visiting their Facebook page HERE.