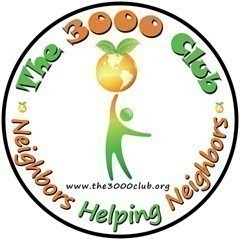 Tomorrow is another "MOM (Market on the Move) produce market & co-op. This your chance to get [up to] 60 lbs of produce for $10.
This is a non-membership required program that allows you to get up to 60lbs of produce for a mere $10 (donation).
The goal is to allow you to pick up produce you can share with those in need.
Donate $10 to get your up to 60 lbs. of produce which you can share with anyone you know is in need.  Below are the locations for Market on the Move locations for tomorrow, 3/30, from 7 or 8 a.m. to 11 a.m. ~ Rain or Shine!
From their Facebook page HERE:
Varieties for tomorrow's MOM include: tomatoes (Roma and regular), squash (butternut and yellow), zucchini, mini bell peppers, cucumber and limited amount of pasilla pepper.
Locations are as follows for METRO PHOENIX:
Faith Builders Church, 949 E. Bell Road, Phoenix 85022
Garden Christian Church, 8620 E. McDonald Drive,Scottsdale 85250
Laveen Baptist Church, 5036 W. Dobbins Road, Laveen 85339
Our Lady of Guadalupe Church, 20615 E. Ocotillo, Queen Creek 85142
St. Paul's Lutheran Church, 6301 W. Indian School Road, Phoenix 85033
St. Rose Parish, 2825 W. Rose Canyon Circle, Anthem 85086
TUCSON
Pima Community College, 5901 S. Calle Santa Cruz St., 85709
St. Joseph Church, 215 S. Craycroft Road, 85711
Saguaro Canyon Church, 10111 E. Old Spanish Trail, 85748
SIERRA VISTA
Fort Huachuca, TMAC Pavilion, AZ 85613
See their Facebook post HERE for directions on finding MOM on Fort Huachuca.