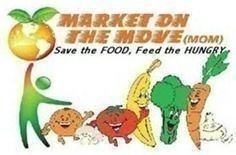 As many of you know, Saturday and Sundays are time for "Market on the Move" produce market & co-op.   For those of you who are NEW to Market on the Move, this is your chance to get [up to] 60 lbs of produce for $10. It's called "Market on the Move – Food Rescue Co-Op".
This is a non-membership required program that allows you to get up to 60lbs of produce for a mere $10. The goal is to get you to share that produce with people who may not be able to afford produce.
Keep in mind the produce will be "good" quality, but not the same quality you find at your local supermarket; with that in mind, it's best to share with others, OR, plan to "can" the produce you manage to obtain so as to extend it's life.
Below are the details for Market on the move locations Saturday 03/17: