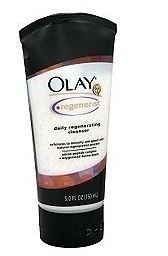 Those of you who haven't yet considered doing a Kmart run this week – I really think it's a great time to head over there.
They have a P&G promotion of "Buy $25 get $10 ONYO" in the form of a coupon. The Olay AND CoverGirl are B1G1 50% off AND.. they have double coupons.  The best part is that the full price of the Olay & CoverGirl are counting towards the "$30".. so it makes the deal even better.
Even better, we have a P&G Best in Beauty Rebate through 4/28. Here's a deal idea:
Buy 4 Olay Regenerist Cleanser $8
Buy 2 CoverGirl Shadow $3.29
Buy 4 Purex Ultra Packs $2.50
= $48.58
Less (4) $3/1 Regenerist Cleanser 04/01 P&G (exp 04/30)
Less (2) $1/1 CoverGirl (DOUBLED) 4/1 P&G (x 4/30)
Less (3) $1/1 Purex Ultra Pack (DOUBLED) 3/11 RP (x 4/21)
Less B1G1 50% off Olay ($8)
Less B1G1 50% off CoverGirl ($1.65)
= $16.93 + tax | Earn $10 coupon for P&G (on your next order)
Now keep the receipt, and save it for this rebate (partial)
You can see more opportunities HERE.
Remember you will need a Shop your Way rewards card – they will only double 5 coupons per card per day.