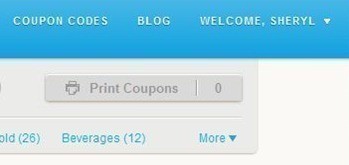 Many of you have noticed this past few months that Coupons.com has in fact changed their layout once again.
As much as we all work hard to adjust to these changes, some of you are having trouble finding coupons that are posted specific to a certain zip code… earlier today I posted some great cereal coupons for Safeway – they are there .. you have to know how to find them (zip code 62946 is the most common).
To help you a little easier, I wanted to pass along a tip that helps me, and hopefully you as well.
Most times, coupons can be found easily no matter where you are located at – Coupons.com will operated at the zip code that you reside in – it goes off of the Geographic Location of your IP Address… so if you are in Texas for the Holidays, it will show you the zip codes exclusive to those zip codes at the city in which you are staying.
Should you have to change that zip code to locate a coupon, you are now no longer able to do so using the old method (we used to click "Local Coupons", punch in the zip, and then go back to "Coupons" to find what we needed).
You can, however, change the zip code in the Member Center. If you register, or log in at the Member Center (upper right of Coupons.com), you can identify your zip code in that area. Submit, and then carry on finding the coupons you need.  I hope that helps those of you who are having trouble – as always, you can leave feedback for them on their Facebook page as well.