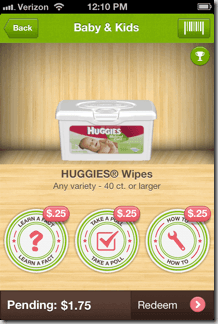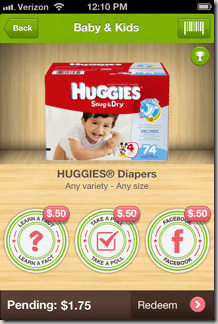 We have several new *HOT* iBotta offers that popped up today. You may see them if you log into your iBotta account.

If you are new to iBotta you can earn a $10 BONUS for signing up… as well – on top of the new bonus offers. A smart phone is required, and Facebook IS required as well.
You simply purchase the product, and submit for reimbursement through the prompts on the screen.  These are Labor Day offers – and many of them work super for CVS this week!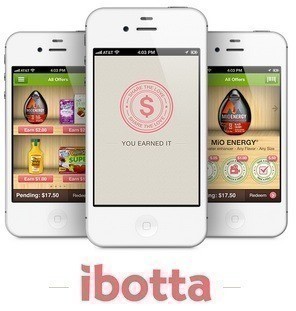 Ibotta Product Gallery – all retailers – New Offers!

HUGGIES Diapers Any variety – Any size $1.50
HUGGIES Wipes Any variety – 40 ct. or larger $0.75
Pull-Ups Training Pants Any variety – Any size $1.50
GoodNites Youth Pants Any variety – Any size $1.50
U by Kotex Tampons or Pads – Any variety – Any size $0.75
Depend Any variety – 6 ct. or larger $1.50
Poise Pads and Liners Any variety – Any size $1.25
Scott Bath Tissue 8 pack or larger $0.75
Kleenex Facial Tissue Any variety – 3 pack or larger $1.00
Viva Paper Towels Any variety – 6 pack or larger $0.75

Ibotta Product Gallery – all retailers – New Combo Offers!

Softsoap brand & Kleenex Hand Towels Combo $1.50
Product 1: Softsoap brand Liquid Hand Soap – Any variety – 8.5 oz. or larger
Product 2: Kleenex Hand Towels – 60 count box
Both products must be purchased on the same shopping trip to receive credit for this offer.

Palmolive & Scott Towels Combo $1.50
Product 1: Palmolive Dish Liquid  – Any variety – 20 oz. or larger
Product 2: Scott  Paper Towels – Paper Towels – 8 ct. package or larger
Both products must be purchased on the same shopping trip to receive credit for this offer.

Colgate & Kleenex Combo $3.00
Product 1:  Colgate Total Advanced Whitening Toothpaste – 5.8 oz. or larger
Product 2: Colgate 360° Optic White Toothbrush – 1 count or larger
Product 3: Kleenex Facial Tissue – Any variety – 72 ct. box or larger. Excludes multi-packs.
All three products must be purchased on the same shopping trip to receive credit for this offer.

Cottonelle Bath Tissue & Cleansing Cloths Combo $1.00
Product 1: Cottonelle Bath Tissue for any variety, in 4 pack or larger.
Product 2: Cottonelle Flushable Cleansing Cloths, in dispenser or refill.
Both products must be purchased on the same shopping trip to receive credit for this offer.

BONUSES – EXPIRE SEPT. 9th


Some of the offers below will qualify towards more than 1 Bonus – and that's ok 🙂

$20 for 10 offers Bonus

Pick Up The Values! Redeem any 10 of these offers earn an extra $20!  Bonus Amount: $20 – Eligible offers:

Kleenex Facial Tissue
Scott Bath Tissue
Scott Naturals Flushable Cleansing Cloths
Pull-Ups Training Pants
GoodNites Youth Pants
Depend
Poise
U by Kotex
Viva Paper Towels
Huggies Baby Wipes
Huggies Diapers
Softsoap brand Liquid Hand Soap and Kleenex Hand Towels combo
Palmolive and Scott Paper Towels combo
Colgate and Kleenex Facial Tissue combo
Cottonelle Bath Tissue and Cottonelle Cleansing Cloths combo




$5 Autumn Stock Up Bonus

Redeem 2 or more of these offers on 2 separate days and earn an extra $5. Bonus Amount: $5 – Eligible offers:

Kleenex Facial Tissue
Scott Bath Tissue
Pull-Ups Training Pants
GoodNites Youth Pants
Depend
Poise
U by Kotex
Viva Paper Towels
Huggies Baby Wipes
Huggies Diapers

$3 Kitchen and Bath Bonus

Pick Up The Values! Redeem any 2 Kimberly-Clark and Colgate-Palmolive combo offers on the same trip and earn an extra $3.  Bonus Amount: $3 -Eligible offers:

Softsoap brand Liquid Hand Soap and Kleenex Hand Towels combo
Palmolive and Scott Paper Towels combo
Colgate and Kleenex Facial Tissue combo
Cottonelle Bath Tissue and Cottonelle Cleansing Cloths combo

$2 Hug Your Baby Bonus

Redeem both offers on the same trip and earn an extra $2. Bonus Amount: $2 – Eligible offers:

Huggies Baby Wipes
Huggies Diapers

$3 Freshen Up! Bonus

Pick Up The Values! Redeem any 3 of these offers on a single trip and earn an extra $3.  Bonus Amount: $3 – Eligible offers:

Kleenex Facial Tissue
Scott Bath Tissue
Viva Paper Towels
Cottonelle Bath Tissue and Cottonelle Cleansing Cloths combo