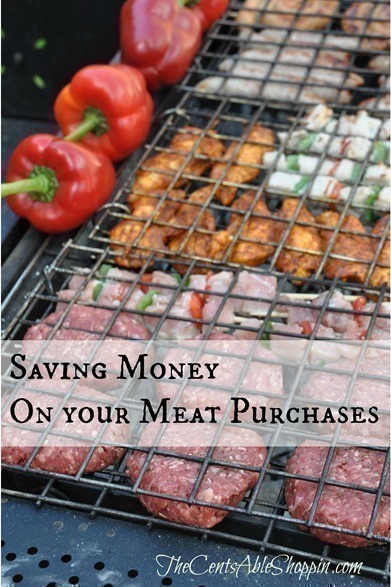 For a good majority of families, meat is the most expensive purchase in a household grocery budget…… I know I have some readers who are Vegetarian – but I would suspect that the majority of you incorporate quite a bit of meat into your weekly grocery purchases.
For most of you, meat is costly – we all have ways that we cut down that cost; for some of us, it means purchasing in bulk, or price matching meat each week.
One of the biggest hang-ups to couponing is that you can't get coupons for meat or seafood – partly correct, but in some rare cases you can.
Whatever your grocery budget, it's always wise to set a certain amount aside for chicken, beef or seafood – or, even pork. What one family has budgeted may or may not work for another family – so you will have to determine what works for you.
Here are some tips to reducing that out of pocket expense
Sales Cycles & Meat Sales.
While packaged food usually has a sales cycle of 6-8 weeks, meat is a cycle of 3-4; what goes on sale now, will go back for the same price a month from now. Keep in mind though that meat is also seasonal; you won't find Ham on sale in June – but you will find Hot Dogs & Hamburgers on sale for summer grilling.
You'll want to watch those sale prices as well – once you watch the meat prices for a few weeks, you'll know what's a great deal. For example – 85/15 Ground Beef for us in Arizona usually goes for $2.85 per pound.; sometimes you can score 93/7 for $2.99 – $3.49 per pound on a great sale week as well – and 73/27 is commonly found at $2.29 lb or even less at Pro's Ranch.
Every few months Fry's has the Pork Products on a huge sale – stock up when that time comes around, and you can save on everything from pork chops to shoulder, and boneless ribs.
Grind your Own Meat.
Many of you, myself included, look for inexpensive prices on London Broil and Roasts – they work well for Ground Hamburger. Safeway & Bashas will grind your meat for free if you ask the Butcher. AND if you have a Kitchen Aid Mixer Attachment, you can often times use that as well.
Certain roasts make for better grinding than others – you'll want to aim for a fat content of 85/15 for the best outcome; too lean, and the meat won't stick together well for hamburgers, too fatty & you'll find yourself swimming in grease.
Markdowns on Meat at your Local Store.
I am always looking for markdowns on meat at Safeway – they have a small area in the meat case that they use to put their markdowns. Try to go mid- morning; they normally mark down the meat that is short-dated and you can grab savings anywhere from 30 – 50%.
If the dates are short, you can always cook & eat that day, or freeze if you can't eat it immediately.
Special Purchase Opportunities.
Here in Arizona, most of you who have an Albertsons nearby are familiar with the Special Purchase Opportunities they have going – every few weeks, they'll offer Petite Sirloin Steak Buy 1, Get 2 FREE – and at $7.99 lb. it's a great way to stock up on steaks for the freezer.
In these instances, I would suggest slicing the steaks thin – it'll stretch out the steaks you buy, which are already fairly thick; you could also ask the Butcher to slice the steaks thin for you as well.
They will often times have Ribs on the same sales promotion – sometimes even Tilapia. It's a great way to stock up, and lessen your out of pocket.
Use Catalinas & Overage.
Many times, we have freebies we can pick up at various stores – whether dog food, or plastic Glade Warmers; while we won't always use these freebies, if they allow a small amount of overage, you can purchase them and use the overage to bring down the cost of the meat – or, items in your buggy without coupons.
Many times our overage ranges from $0.20 – $1.00 per item….. which are great ways to grab things that you might need, but are trying to lessen the cost on. If you don't need the items, you can always donate; the same goes for catalinas – every opportunity to get in on a catalina offer is a chance that you can use that paper cash to stock up on milk or meat as well.
Know What your Local Store Offers.
Albertsons will steam your shrimp for you, and cut your chicken for you too (all you need to do is ask!) Food City will marinate your meat at no extra charge – and Safeway will often times grind some of the meat on sale if you ask the butcher.
Buy in Bulk.
Zaycon is a great resource for those of us in Arizona; they are a wholesale seller of chicken and beef, and much more. They routinely announce sales for our our area, and will take orders online – Boneless Skinless Chicken, for example, is usually every few months, and is sold in a case of 40 pounds. If you can't squeeze 40 pounds in your freezer you can always split with a friend.
Likewise you can use the Green PolkaDot Box as well – they sell Natural, Organic & Non-GMO Foods at wholesale prices – and deliver to your doorstep. You can read more about them in my last post – we love using them for our grass-fed ground beef (and it eliminates a trip to Costco).
Use Vegetables to Supplement your Recipes.
We love meat in our house, and we do not discriminate…. I love a great steak, and Dave is a huge fan of ribs. But one thing we have done over the last year to stretch out our purchases is to use a greater proportion of vegetables in our dinner recipes to supplement the meat.
We love steak…… but we'll watch the produce sales and if we score great deals on Peppers and Potatoes, we will try to use up as many Vegetables as we can to lessen the meat we are using –you can still eat well, but you'll feel full just as quickly (and your body will thank you, too!)
Related Posts: