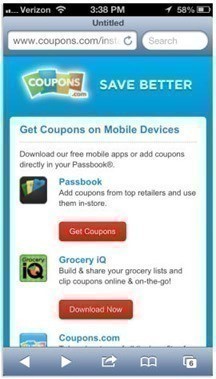 Many of you may have an iPad (me as well)… and want to know if you can print coupons on your device. Perhaps you have an Android and would like to do that with your phone as well.
You can print on both Android and Apple Devices – just a few simple steps is all it takes!
::: On the iPad/iPhone – Download the Coupons.com App from the App Store – (it's FREE)
::: Make sure your iPhone or iPad are connected to your Wi-Fi network at home.. your network must be able to detect the printer  — ***Make sure the Wireless is turned ON*** on your printer as well.
Wired printer connected to your laptop connected to wireless and shared on wireless network –
Your computer or laptop is connected to wired printer through USB… and connected to WiFi. Connect your printer to Wi-Fi… . Grocery IQ will detect these shared printers and will automatically print after selecting print.  This works primarily with HP printer – or any printer using AirPrint.
Using 3G from cellphone provider: Wireless printer –
Turn on your cell phone wireless… then, connect your wireless printer to your phone's hotspot. Printer will be auto detected by Grocery IQ and will print after selecting print.
If you have an Android phone, like I do, you can also print coupons –
Download the Grocery iq app in the Android Market.  Then, find the app in the market titled PrinterShare ($12.95)… or PrintDirect (FREE) The free version does have limitations but if you purchase the app (for a small fee) you can print anything your phone.  I think the $12.95 is VERY worth the cost – if you decide to do this regularly.
You will be able to print remotely to 75% of Wi-Fi enabled printers, not just HP..
I'm no expert on printing from a mobile or iPad, but hopefully this helps those of you who have been curious.  I have installed ALL of the apps on my phone and iPad, but I haven't spent too much time messing around to get them to work 100%.