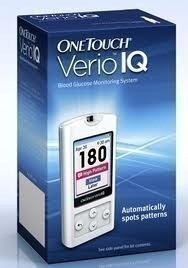 WOWsers! This is a high value coupon. Print a NEW coupon for $45/1 OneTouch Verio IQ Meter – it is a Smartsource coupon.
Even better, the Walgreens October Coupon book has a high value $50/1 OneTouch Verio IQ Monitor coupon… and even more, the November coupon book will have the same (coupon 5874) – for a total of $95 off ONE.
The meter runs fairly high – it runs around $70-$80… after both coupons, you should be able to grab it FREE.