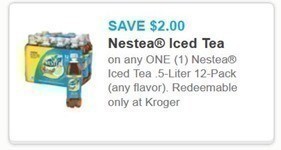 If you are a Kroger shopper, we have a few new high value coupons.
Grab this new coupon for $2 off 1 Nestea Iced Tea .5 liter 12 pk – and $1.50/1 Nestea .5 liter 12 pk ANY flavor.
The coupons are only redeemable at Kroger – you can find them under the Beverages category. The 12 pk runs $4.99 regular price – $2.99 after coupon if priced the same at your store.