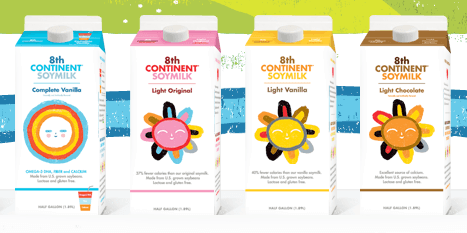 Many of you are on a restricted diet that requires an alternative to the traditional Dairy Milk that we purchase in grocery stores.
If you are lactose intolerant, and looking for gluten free free options, 8th Continent Soymilk is a great pick – it's something that my little ones drink, and easy to find ~ I can pick it up at Walmart for around $1.83 after a $1 printable coupon. You can even go so far as to use it in lieu of regular dairy milk in your cooking.
If you haven't made a visit to the 8th Continent site, you can grab a coupon for $1 off your next purchase on the top right corner – and use at Walmart to get the best deal.
8th Continent is a family owned dairy in California that sources their beans domestically – and, makes their milk in small batches – you'll love it…it's delicious ;)
They have provided me with 2 FREE Product Coupons for 8th Continent Soymilk – to giveaway to 5 amazing readers!
The giveaway will end 10/27 at 12:01 a.m. EST – at which time I will pick 5 winners. Winners will be required to respond within 24 hours with mailing address. Disclosure: Coupons for this giveaway were provided both to me and also for the purpose of the giveaway.