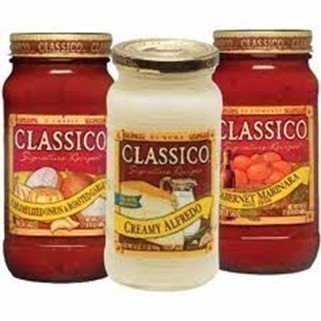 If you saved the new Heinz/Classico SavingStar offer I posted last week, use it to score cheaper Classico & FREE Heinz at Fry's.
Classico is a Mega Sale item; Heinz is not, but yet Heinz is free. To get started save this offer to your Fry's Card:
Deal: Buy 16 Classico $.99 ea. wyb 4
Buy 3 Heinz Ketchup 38 oz $1.99
= $21.81
Use 4 – $1.50/4 Classico Sauce
Use 3 – $.50 off ONE Heinz Ketchup 28 oz or larger or coupon in the 5/4 SS Insert
Stack with: $1 off Heinz Ketchup Shopmium Offer
Pay $11.81| Earn $5 Back from SavingStar
Making the Sauce $.43 + 3 FREE Ketchup
If you are not familiar with SavingStar, here's how it works:
Select the eCoupons you like on the website or mobile app, and they will be automatically linked to your store card.
Use your card when you checkout and the money is added to your SavingStar account within 7-30 days depending upon where you shop.
Once your SavingStar account reaches $5 in savings, you can pick your payout.
Keep in mind that individual SavingStar offers should not be combined with Manufacturer coupons; but the offers such as these, above can be combined.
You can do any combination of scenarios; I tried to keep it to someone who has 2 computers, for 4 prints.