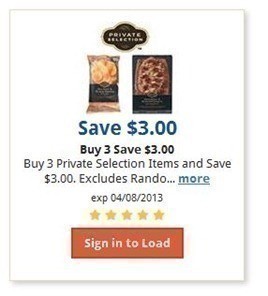 Many of you loaded this coupon a while ago (around 2/26) – if you did, and you haven't used it.. reader Xi Piao gave us a great tip today to using this one:
Pick up an offer from Fry's for $3/3 Private Selection Items – this is an eCoupon you can save to your Kroger/Fry's card.
If you still have your private selection EQ you can score a super deal on Private Selection Sherbet or ice cream pints, they are 4 for $5 right now, which is a super price. I usually pay 2$ for them, as hubby loves that stuff. I had totally forgotten about the EQ, but it came off, making the three I bought 25 cents each! Stellar deal in my book!!
We're not sure how long this is on sale – I will check tomorrow for the end date. But even at regular price ($2), you'll still pay $1 or less for each.
The coupon is valid through 4/8 – and is one-time use only.
(Thanks, Xi Piao!)