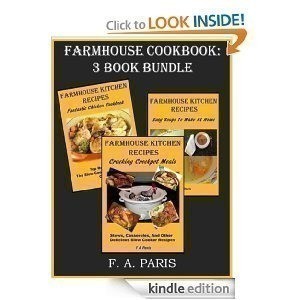 I found 3 SUPER books this morning on Kindle – no bake pies? I'm all for that!  Organic Gardening? What a great book to get started.
You don't necessarily need a Kindle to grab these, If you don't have a Kindle… you can Download FREE Kindle Reading Apps.
Remember that right now they are free, that might not last.
The Poverty Cookbook: My Favorites
DINNER – 55 Easy Recipes (Mama's Legacy Series)
Laughter Really Is The Best Medicine
Slow Cooker Recipes: 33 Tasty & Delicious Crock Pot Recipes!
Farmhouse Cookbook 3 Book Bundle: Slow Cooking, Chicken Recipes & Easy Soup Recipes (Farmhouse Kitchen)
For more FREE eBooks like these, bookmark this on your browser – all sorted to category.