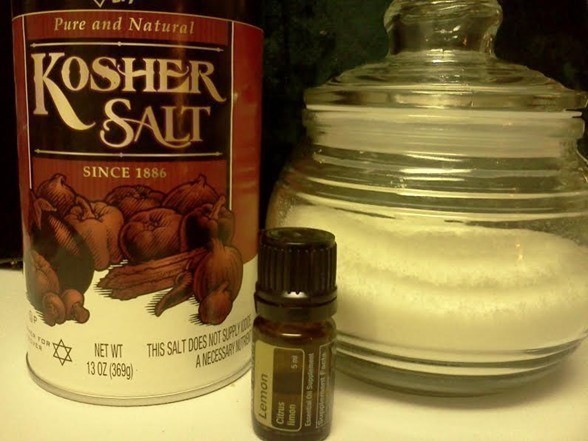 Looking for a way to use all that FREE Kosher Salt at Fry's? Here are some tips from a reader:
DIY Softener:
For DIY Fabric Softener,  you can use kosher salt, rock salt/ice cream salt, or sea salt.  Mix it with some essential oils, and that's it!  Add it a couple of tablespoons at the beginning of your wash.  I used about 20 drops of essential oil per cup of salt, just so I could get a nice strong smell from it.  I used half lemon, half grapefruit.  Use an air proof container if you use the essential oils, as you don't want the smell to escape. 
You can also just use the salt alone as a fabric softener.  I found the jar in the picture at the Dollar (going back for some more).  It will look more like Purex if you use a coarser salt like rock salt, but I'm not spending money on looks when I can get it kosher salt free with coupon.
Body Scrub:
All you have to do at this point is take the salt and essential oils from above, and mix it with some oil!  I prefer coconut oil, but you can use olive oil.  I did this for Christmas gifts and put a ribbon and label around it. 
I used coconut oil, sugar (instead of salt) and sweet orange essential oil – it tastes like an orange Creamsicle AND it is edible!  
thanks, MJ!
Related Posts: