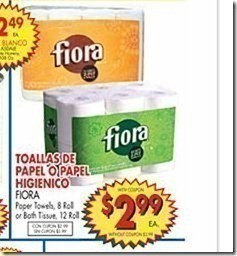 What a super deal!  Starting tomorrow, El Super has the 12 pk Fiora Bath Tissue for $2.99, OR, the 8 Roll Fiora Paper Towel for $2.99.
Fiora Bath Tissue 12 pk or
Paper Towel 8 pk $3.99
$.50/1 Fiora Bath Tissue zip 11724 OR
$1/1 MFR coupon in weekly flier
= $2.99 – $3.49
To find the coupon, click "LOCAL COUPONS" at top; change the zip in the upper left, then click "COUPONS" again. Then, click the button on the bottom to show more, then hit the space bar several times very quickly – it'll bring all 14 pages of coupons out for you, Fiora should be under household.
Note: I have never shopped at El Super – I am not sure how they handle printable coupons.