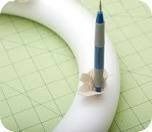 This is one project that is a little too late to do now (for Christmas anyways!) but you can do it for any holiday – just change up the fabric.
It's one that I have made for years – in fact, I have a Valentines one I made for Dave (his birthday is on Valentine's!) and it always gets compliments when people come to my tiny abode :)
You can dig up all your spare fabric scraps, and pile them up – make sure you have at least 2-3 different types of fabric as it looks better to have variety on the wreath.  Purchase an 18" Styrofoam wreath from the craft store and after you get back home, cut the fabric up in 3×3 or 4×4 squares. You can be creative with your fabric – if you have old burlap that works well and looks more unique than regular. I don't suggest buying expensive fabric though – the cheaper the better – a regular cotton fabric works best. You can even purchase holiday themed fabric if you wish.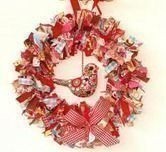 I use a pinking shears to cut the fabric squares that way they don't frill on the edges and it looks a lot more "finished" in the end.  Pile the fabric up in different piles by design; then use a letter opener – or sharp end of the scissors, to push the fabric into the wreath with the design side of the fabric facing up. Push it in – not too far but far enough so it stays.
Now alternate between the different fabrics – all the way around the wreath, as tight as you can fit them into every available inch of Styrofoam. At the end you will have a very beautiful fabric wreath – you can (at that time) hot glue gun your own bow at the bottom and hook at the top for hanging.
This is a great gift if you like to make homemade items for your neighbor – even a close friend. I have had my wreaths at least 8 years – they get packed in the holiday box each year and pulled back out when it's time to hang – they hold up very well.
I would suggest getting your crafts ( pinking shears, Styrofoam) at Michael's or Hobby Lobby with a 40% off coupon to lessen the cost – you can use the pinking shears to cut your coupons as well – if you can't find your regular scissors that is!