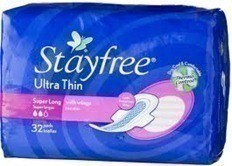 You'll want to plan ahead to pickup several papers the week of 1/6 – looks like we'll be getting up to 6 inserts.
We should get a great coupon for B1G1 FREE Stayfree – up to $4.49 that is valid through 2/6/13.
Even better, CVS has Stayfree B1G1 FREE that same week – making for FREE or very cheap Stayfree for you to kick off the New Year.
CVS – week 1/6, Stayfree B1G1 FREE (no price listed)
B1G1 FREE Stayfree 1/6 SS Insert (x 2/6)
= 2 FREE or cheap depending on price
There is no price listed for the B1G1 Stayfree at CVS; the coupon is valid for up to $4.49 – you can use a B1G1 FREE coupon with a sale – depending on price it may make for free or cheap pads.