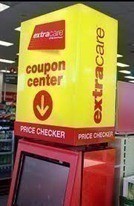 For those of you who are new to CVS, you will find a red machine in store that you can scan your card at – it will release coupons (that can vary from person to person) that you can combine with manufacturer coupons for greater savings.
Some coupons will work well with an immediate sale, and others will be great for upcoming offers.
This is a list of what you might expect to see this week from the Red Machine in store:
This is what I got:
$3/$15 Beauty (in my CVS account for the Beauty Club)
$3/1 CVS Brand Body Wash
$2/1 Simple
$4/$20 Purchase
AND.. $5/$15 Cosmetics
You might get these – and you might even have some I don't have down.
$.40/2 Dove large bars
$3/$15 Caliber Stationary Items
$1 off Neutrogena Norwegian cream
$2 off ZZZQuil
$3 off any Oral B 3ct Power refill brush heads
Try an UNREAL bar for free (up to ($1.19)
$3 off CoverGirl NaturalLuxe
$3 off Aleve
$1/5 Purchase coupon
$3 off any Playtex tampons 36 ct
$2 off any Milani cosmetics purchase of $10 or more
$2/2 L'legs Hosiery
Did you get any that I did not list? If you did, please share!