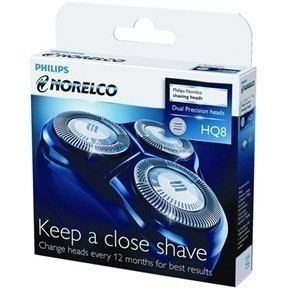 Here's something great to look for at CVS; your store may have the Philips Norelco Replacement Heads HQ8 on clearance for 75% off ($7.87) – reduced from $38.00.
I saw them last weekend at mine, but at the time they were only 50% off – they may have gone down since then.
Print a coupon for $5.00 off when you buy any ONE Philips Norelco Shaving Replacement Head – making them just $2.87 – over 80% off the regular price.
Would be great for those of you who own a Philips Norelco, or plan on purchasing one in the foreseeable future.
Keep in mind that clearance can vary by store, and if your store does not have them marked, it's best to scan on the red machine.