The back of the CVS ad has some nice liquor rebates – you can do at any store. Even better… Safeway has some nice liquor coupons on Just 4 U you can combine to make for some cheap holiday drinking.
Some Safeway prices:
Absolut Citro Proof 750 ml $14.99
Absolut Mandarin 80 Proof 750 ml $14.99
Beefeater Gin 94 Proof 750 ml $16.99
Kahlua Coffee Liquor 750 ml $14.99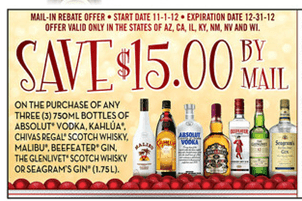 The CVS rebate has the requirement for only select liquor – the Safeway site has certain coupons for some of those varieties. You only have to buy 3… Here's a deal idea – purchase all in one transaction:
Deal Idea – at Safeway:
Buy 3 Kahlua 750 ml $14.99
= $45
Use $10/3 Just 4 U
= $35 | Submit for $15 Rebate on the back of the CVS ad for 12/23 – select states, can purchase at any store
= $20.00 for 3, or $6.33 ea.
The CVS ad has some varieties on sale, but you won't get the same coupon from Safeway – so you might be able to find hangtags on the  Kahlua in store – I have not looked… could make them cheaper.
The purchase price must exceed the rebate, and the offer is only valid through 12/31 (postmark by 1/15).