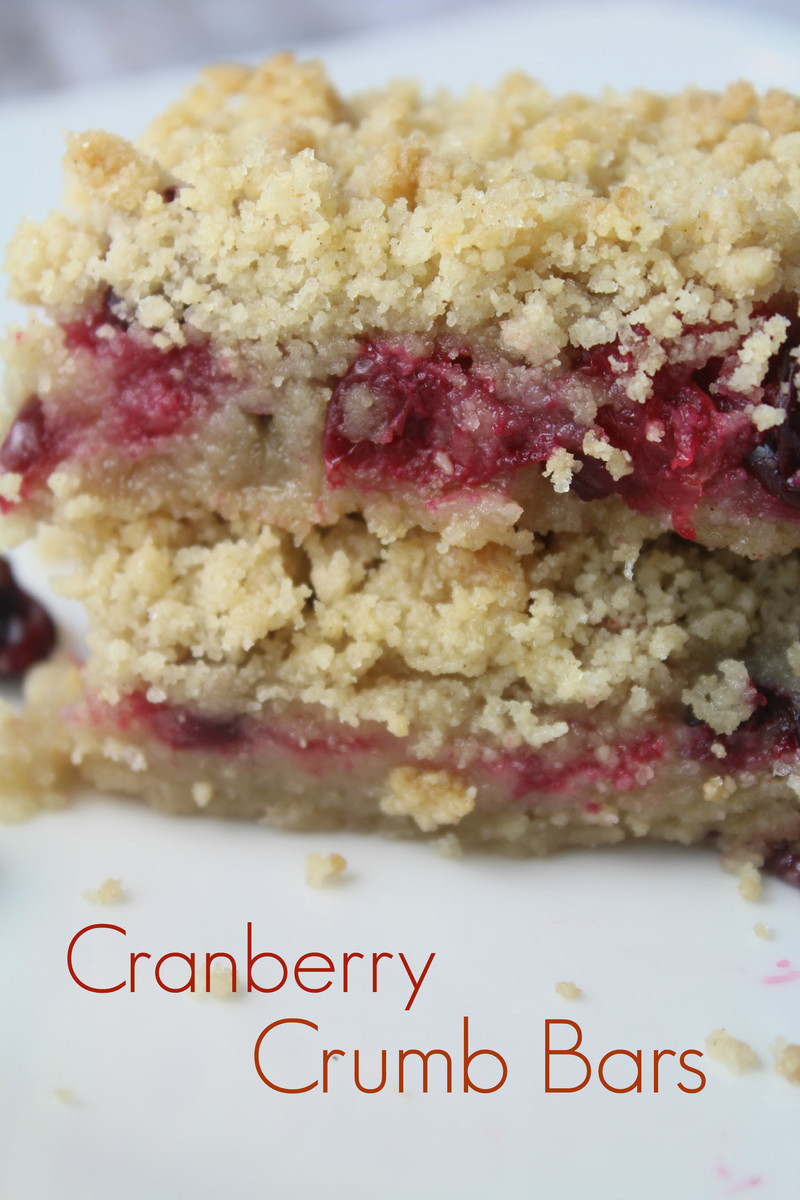 Cranberries have been hitting farmers markets all over Phoenix for the last few weeks – who doesn't love those beautiful, brilliant hues of red?!
I've been excited to have an abundance of them at home – and at first, my kids were too. (At first…) — they soon realized that those beautiful red beauties were very, very sour. I mean, at first glance, they look like candy — but it doesn't take long to realize that they are very sour and tart.
I've been using ours to make cranberry kombucha — but recently was assigned the task of contributing to a dessert tray at a holiday party, and these bars work perfect for that.
They are rich and delicious – always a hit no matter where we take them, and people always ask for the recipe. These bars can be cut into mini squares so they work perfect for a holiday dessert tray (remember that!) and they are relatively easy to put together.
Start by cutting 1 C. of cold butter into a mixture of all purpose flour and sugar, just until crumbly. Spread 2 1/2 C. of the mixture in the bottom of a glass 9×13 baking dish, then get to work on the filling.
Combine the cranberries with sugar, some orange juice, and cornstarch and spread evenly on the crust – then top that filling with the remaining crumb for the top crust. You'll want to make sure you have enough to spread out evenly to top the filling.
The bars will bake at 375 for approximately 45 minutes until they are golden brown – cranberry filling may ooze out from the middle layer. Wait for them to cool, then cut them into small bars, or even further into mini bars. While you can refrigerate any leftovers for up to a week, in most cases the leftovers won't last that long.
They are just that delicious!
I certainly hope you love these cranberry crumb bars as much as we love to make them!
Easy Cranberry Crumb Bars
Celebrate the season with cranberry crumb bars! They are easy to make and can be cut into mini squares for a party dessert tray.
Ingredients
Crust:

2 1/2 C organic, all purpose unenriched flour
1 C sugar
1 tsp baking powder
1/4 tsp salt
1 C cold butter
1 egg
1/4 teaspoon ground cinnamon

Filling:

Filling
4 cups fresh or frozen cranberries (We used a single bag)
1 cup sugar
4 Tbsp orange juice
1 tablespoon cornstarch
1 teaspoon vanilla
Instructions
Heat oven to 375, generously grease a 9x13 glass baking dish.
In a medium bowl, combine the flour, sugar, baking powder & salt.
Cut in the butter until mixture looks like coarse crumbs. Add the egg - blend well.
Press 2 1/2 C of the mixture in the bottom of the 9x13 glass baking dish, reserving the rest for the topping.
Preparing the filling by mixing the cranberries with the sugar, orange juice, cornstarch and vanilla. Pour evenly over the crumb crust. Then sprinkle the remaining crumb mixture over the filling, making sure to cover the filling completly.
Bake at 375 for 45 minutes - remove and let cool before cutting.
https://www.thecentsableshoppin.com/cranberry-crumb-bars-great-for-the-holidays/