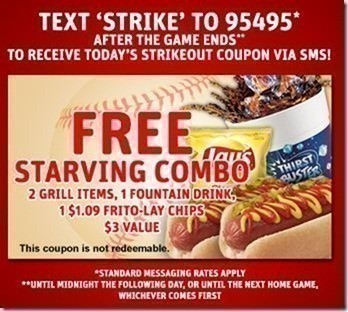 Last year, many of you remember the great promo we had with Circle K and the Diamondbacks…   each time the D-Backs won a home game, Circle K would release a really nice coupon for savings in their gas station – we were able to score bananas… roller grill items, hot drinks, donuts & more.
Well – it looks like the offer is back this season! I just got a message on the blog from Petra, who says:
Hey there not sure where I should post this but the Circle K strikeout meter is back again now that it's baseball season!! Can you please let everyone know that after every Diamondback homegame you can text the word Strike to 95495 and get a special coupon offer. Thank you.
From the Circle K site:
Welcome to the Circle K Strikeout Meter! During regular season home games, check this page for the current strikeout total. You'll see a coupon at right that you can receive at the end of the game via SMS by texting "strike" to 95495. The more strikeouts, the better the coupon! Go DBacks!
For more details & to see the current coupon click here.  You WILL need to have texting on your phone as this is a TEXT ONLY promo… and the coupon is valid through midnight the NEXT day or until the next home game- which ever comes first.
It looks like the coupon that is available right now is a pretty darn good one!
Thanks Petra!