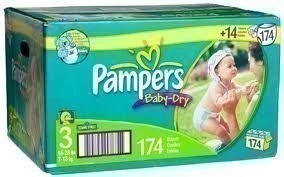 If you have kiddos in Diapers, we have a diaper deal that might be worth checking out – depending on what you normally pay for Diapers.
Starting today, December 7th and going through Saturday, December 8th, you can earn an $35 Gift Card when you buy 2 Pampers Value Boxes of Diapers (88 ct or more) and 1 Pampers Box of Wipes (448 ct or higher). 
Quantities are limited and this is an in-store promotion only – the gift card will not be active until 6 hours following purchase, and expires 2/2/13.
In past cases, they usually raise their prices during this time, but depending on where you currently get your diapers it could be an ok deal:
Deal Idea – Buy 2 Boxes of Size 3 at $47 ea.
Buy 1 Box of Wipes $13.00
= $107
Less Coupons ($4.50) and gift card you can pay $73.88
Less Wipes, would be $60.12 for 204 diapers per box, or $0.15/diaper
The final cost would vary based on the count box you purchase as well.